Published by TheFoodMonkey on 26 Sep 2013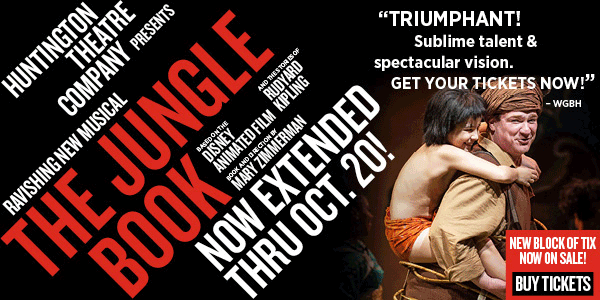 The Huntington Theater's production of "The Jungle Book" blends the darkness of Rudyard Kipling's original work with the good-hearted musicality of Walt Disney's animated movie. Richard Sherman's compositions for the original 1967 film have been jazzed up and reorchestrated for an ensemble consisting of 6 musicians playing traditional Indian instruments and 6 jazz musicians. The new orchestrations give the classic songs new musical textures without sacrificing what we love from the original score.
The result is a joyous, raucous, and engaging performance. Much of the evening's production is a complete delight, leaving us grinning at the exploits of the irresistably cute Mowgli, bumbling Baloo the Bear, and kindhearted Bagheera the Panther.  Boardwalk Empire's Kevin Carolan's "Bare Necessities" featuring jazz solos from the orchestra is fantastic, and Andre de Shields' "I Wanna Be Like You" is a crazy, over-the-top Act 1 closer.
Overall, the evening is completely enjoyable. This production delivers eye catching sets and intricate costumes to transport the audience members to the Indian jungle. Check out this high energy, spirit lifting production!